EarthCalm Gave Best
Health Benefits
If you want a simple, powerful and economical way to boost immune system naturally, EarthCalm Home EMF Protection system is what I recommend. Just plug it in (a three step process) and leave it. It doesn't use electricity, never needs to be recharged and has no maintenance. Though it was designed for EMF protection, the health benefits for anyone - even those not experiencing EMF radiation (and that would be almost nobody)- are extremely impressive.
Of ALL the top brands of EMF protection I tried (and I think I've tried them all), EarthCalm gave the best overall results – far exceeding all others. Having electromagnetic hypersensitivity for over three years, I can quickly and dramatically tell what each product is doing for me. These products didn't just give the grounding required for EMF protection but also gave my body what it needed to detox, support a healthy immune system and heal from electromagnetic radiation which had given me six different types of cancer along with electromagnetic hypersensitivity.
So why are EarthCalm products so beneficial to virtually everyone today? God designed our bodies, along with everything else in the universe, with its own electromagnetic field. Healthy tissue has one set of frequencies while unhealthy tissue has another set of frequencies. In today's environment, we have many frequencies found in electric, magnetic, wireless and ionizing radiation that are changing our healthy tissue frequencies to unhealthy tissue frequencies. What these products do is give grounding and correcting opportunities for our bodies so they are better equipped to win the battle in our radiation filled environment and return to homeostasis.
EMF and RF (Wireless) Radiation is our #1 immune system enemy
that is completely invisible!
Current research confirms that numerous diseases such as cancer, Alzheimer's, Parkinson's, fibromyalgia, MS, high blood pressure, asthma, chronic fatigue, insomnia, allergies, and migraine and regular headaches, have a direct correlation to EMF and RF (Wireless) exposure — as do other chronic and stress-related illnesses due to immune system deficiencies and DNA destruction. See Immune System Diseases List Here.

And, as the technological revolution continues to explode, the hazards of EMFs continue to increase, even for those that are most healthy. Research has confirmed the relationship between cell phone and brain cancer - which is on the rise - and is finally being correctly reported in some of the news.
While many individuals simply experience a greater sense of ease, peace, calmness and alertness with EarthCalm products, over 95% of individuals report relief from one or more of their health symptoms. Here are some of the clinical health benefits people are reporting:
relieves arthritic and joint pain
reduces migraines and stress headaches
more energy while working in front of a computer
normalizes blood pressure
improves sleep patterns
relieves asthmatic attacks
decreases mood swings
stronger immune system
healthier gums
increases concentration and improves school grades (young and old)
alleviates PMS and menopausal symptoms
"Today, after having the Home EMF Protection System in place for three weeks, I noticed that for the first time in my life, I can focus (REALLY FOCUS) in a relaxed manner on what I am doing without feeling like I should be doing several things at once - BIG benefit I didn't even expect. Also two deep cracks on the bottom of my feet have almost completely healed up for the first time in years. And a couple of suspicious skin moles are drying up. But I am most excited about how quickly the products discharge the everyday radiation I am in! My head feels normal soon after returning home from repeated cell tower exposures."
EarthCalm has a variety of products for many types of EMF protection needs including home/office and personal systems that go everywhere with you, computer, cell phone, traveling, special technology for protecting bed areas from wireless microwave radiation and more. Click on Banner to see all products of these TOP PERFORMING EMF PROTECTION DEVICES and if you order by phone, please give Affiliate ID#6:


Primary Protection Devices


Home EMF Protection System - My #1 Pick for Starters and Foundational Protection. EarthCalm info and ordering


EMF Protection Neck Pendants, Bracelets and Ankle Resonators for 'On Body' protection. Also See New Pendents for Women Earth Calm info and ordering


Wireless Protection Devices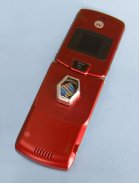 NEW! Quantum Cell - Transforms hazardous field from cell phone and wireless phone into positive, beneficial field of protection!! The best cell phone protection on the market! Earth Calm info and ordering


Omega Laptop Protector. For laptop and wireless routers. Earth Calm info and ordering


TRY THEM AND SEE FOR YOURSELF –
90 DAY MONEY BACK GUARANTEE!
---


For more information on EMF and how it affects your health, go to my website:
---
Click Here to read my testimony of how I got radiation
poisoning at my own house so you can avoid it!
---
Return to Home Page
Go to 'Radiation Poisoning Testimony'
Go to 'Breast Cancer Natural Treatment'
Go to 'Ondamed Biofeedback'
Go to 'Immunity Boosters List'
Go to 'Detox is Important'